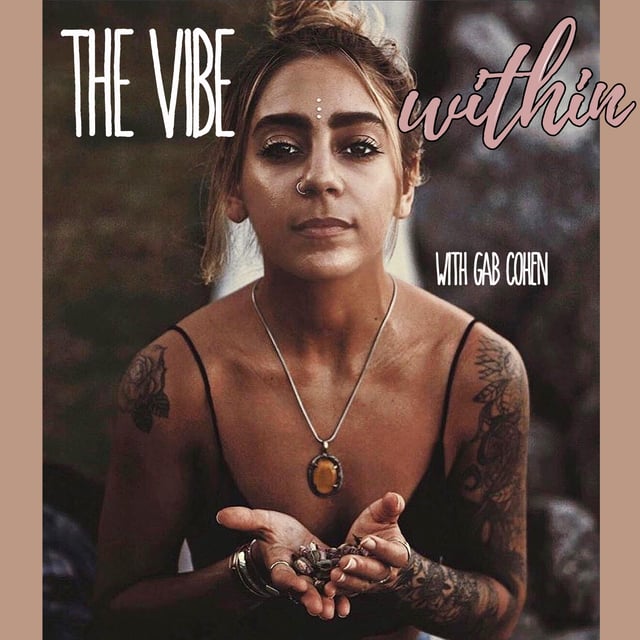 The Vibe Within
Breaking Self Sabotage, Taking Inventory of Your Life, Identity, Finding New Energy to Manifest and Getting UNSTUCK!
Gab shares everything she's been learning in therapy, books etc that has been helping her navigate through her identity crisis, and life shifts. She goes into detail about how our subconscious unconscious selves can keep us back by self sabotage. She goes through tactical ways, journaling practices, habits, rituals and questions that have been helping her figure out how to get UNSTUCK. When our lives are not feeling right, and we feel like we are NOT SATISFIED, something is missing, we need to take a life inventory. this is a very easy and healing practice that you can do, and it will guide you so your life can change and expand into what you truly desire. whether its work, love life, financial, family, body, food, mental health issues, health issues. there is always a way out of it. there is always something we can do to get back on the pathway that we desire so we can get to our goals. It requires us getting REAL and getting through the stuck energy.
ELECTROLYTES that Gab uses! DISCOUNT LINK
http://elementallabs.refr.cc/gabriellecohen
the tea that gab loves that is caffeine free, totally herbal and safe for auto immune issues.
https://teeccino.com -- Use code GABLOVEFLOW for 10% off
HERBAL COFFEE that gab LOVES. - USE DISCOUNT CODE GAB10
KETO collagen and the best flavors of collagen mCT
Treat yourself to online therapy.
USE CODE: VIBE22 for ten dollars off 50 dollar purchase
OVASITOL!
• theralogix.com !
• Use the provider referral code 233136 at checkout to save up to 20% on your purchase on Ovasitol- or any other Theralogix product to support your overall health.
Apostrophe.com/VIBE for a discount on your acne healing
Visit drinkeverly.com to find your flavor. Use code THEVIBE15 for 15% off your first one-time order.
Happy Hydrating!
NUETHIX
use code GAB10
https://nuethix.com
for free ED recovery
https://anad.org
https://eatingdisorderfoundation.org
https://www.allianceforeatingdisorders.com/eating-disorders-and-parenthood/
https://eatingdisordersanonymous.org/phone-zoom-meetings/
https://www.nationaleatingdisorders.org
FREE mEETINGS!!!
for free AA/NA ED spiritual meetings go to https://recoverydharma.org/meeting-list
ANAD and EDF for free ED only meetings
https://anad.org
https://www.medainc.org/services/heal/medas-recovery-groups/
https://eatingdisorderfoundation.org/get-help/support-groups/sign-up/
CLICK HERE To make a donation to support the podcast.
Treat yourself to online therapy.
To buy any of my yoga classes or meditations the link to my Etsy store is below