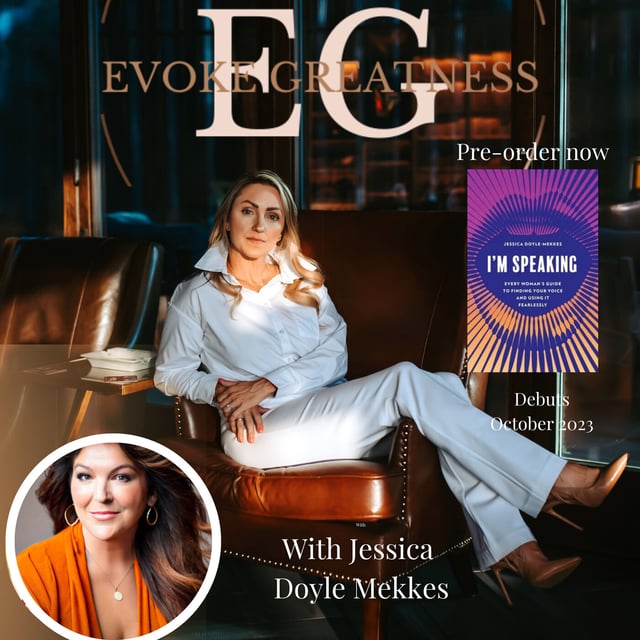 E64 · Evoke Greatness Podcast
Jessica Doyle-Mekkes: Professor, Vocal Coach & Author of "I'm Speaking: Every Woman's Guide to Finding Your Voice and Using it Fearlessly"
Jessica is the Head of Musical Theatre at East Carolina University where she has taught voice and vocal pedagogy since 2017. She has spent the last 15 years studying the human voice and working as a vocal coach for actors, singers, and public speakers. An internationally published writer and sought after clinician, her debut book, "I'm Speaking: every woman's guide to finding your voice & using it fearlessly" comes out October 2023 from Rowman & Littlefield and was recently listed as one of the publisher's most anticipated titles of 2023 with women at their forefront.
She works as a speaker, advisor, and clinician to individuals, groups, NGO's and businesses small and large teaching women how to harness the power of their voices: in their heads & out of their mouths.

In this episode she shares:
· What led to her passion around helping guide women in finding their voice.
· Her philosophy around the "traditional" public speaker image and why she wants to blow that out of the water.
· The science and psychology around how people can use their voice to create different types of desired outcomes.
· Some tips around how to navigate tough conversations.
· Some of the key things to think about when a woman wants to speak in a more confident manner.
· What some of the biggest traps are that women find themselves in when it comes to speaking in the C-suite.
· What compelled her to write the book and who the ideal reader is.
· What she hopes her 2 beautiful daughters are absorbing from the work she is doing.
Jessica has a number of awesome freebie's on her website. Make sure to check it out and put in your pre-order for her book that will be released in October. You will not want to miss this one!
A rising tide raises all ships, and I invite you along in this journey to Evoke Greatness!

Check out my website: www.evokegreatness.com

Follow me on:
https://www.linkedin.com/in/sonnie-linebarger-899b9a52/
https://www.instagram.com/evoke.greatness/