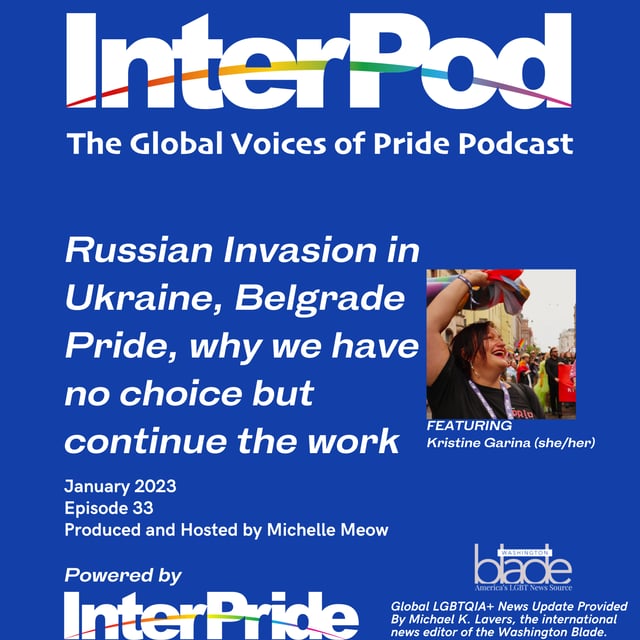 E33 · InterPod
Russian Invasion in Ukraine, Belgrade Pride, why we have no choice but to continue the work
The InterPride podcast series, InterPod, The Global Voices of Pride Podcast, where the world comes together for the LGBTQIA+ community, is proud to launch our 33rd episode, Russian Invasion in Ukraine, Belgrade Pride, why we have no choice but to continue the work!
The LGBTQIA+ community has come a long way in the fight for acceptance. However, our voices matter and will be heard. Many LGBTQIA+ community members have fought for decades for the right to be seen and heard.
About Episode 33
Guest Speaker: Kristine Garina (she/her)
Kristine is a human rights activist with experience in organizing Prides in hostile and homophobic environments and has a vast experience in the security of Prides and human rights defenders in Eastern Europe and post-Soviet states.
Kristine was a co-chair of EuroPride 2015 in Riga. Kristine, one of the founders of MOZAIKA, has been on the organization's board since 2006.
She has held the position of chair of Mozaika's board for several years. She joined the Board of EPOA in 2013 and was elected President in 2015.
Follow Kristine on Twitter
@KristineGarina
Want to contribute as a guest?
Visit www.interpride.org/podcastcontributor.
News Contributor
Global LGBTQIA+ News Update By Michael K. Lavers, the international news editor of the Washington Blade.
Follow InterPride on social media at Facebook | Instagram | Twitter | LinkedIn | YouTube | Apple | Google | Eventbrite | Medium | Twitch
--- Support this podcast:
https://anchor.fm/interpod/support