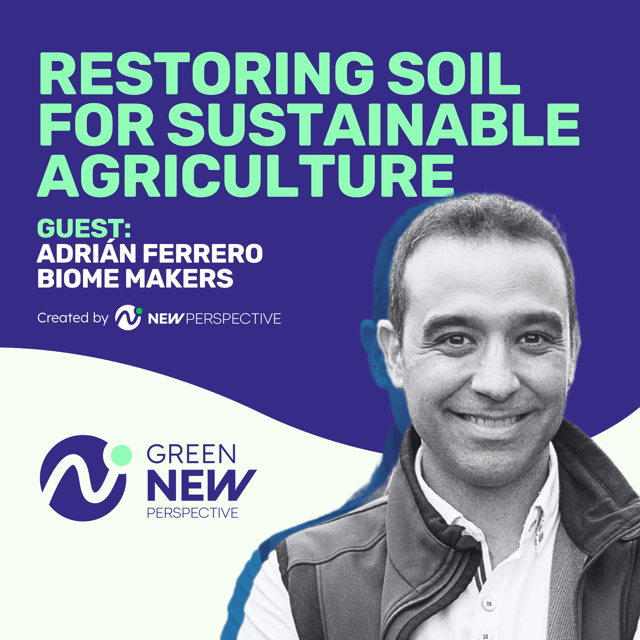 Innovative agritech depends on innovative approaches. Adrián Ferrero, cofounder, and CEO of Biome Makers talks about the critical roles that soil health, data, and tech play in modern food production, and how Biome Makers' soil testing solutions are breaking new ground.
🕑 💡 KEY MOMENTS
==================
➜ 00:03 Biome Makers is transforming agriculture through its groundbreaking soil testing solutions.
➜ 04:44 Biome Makers decode soil microbiome through DNA sequencing for agricultural decision-making
➜ 09:33 Healthy soil microbiome leads to better crop yield and sustainability
➜ 14:17 Companies implementing regenerative farming practices
➜ 18:52 Reducing nitrous oxide emissions in farming practices
➜ 23:04 Marketing plays a crucial role in a startup's success
➜ 27:29 Company's future plans and hopes for sustainability
➜ 31:49 Consumers need to evolve their consumption habits for a sustainable future
🌍 SUSTAINABILITY PODCAST CREATED BY NEW PERSPECTIVE
========================
This podcast is proudly sponsored by New Perspective Marketing, a dynamic growth marketing agency in Boston, MA, celebrating 20 years in business. We help sustainably focused B2B organizations grow their brands and scale up revenue. If you or your organization is looking to grow, visit npws.com for more info.
🎧 SUBSCRIBE TO OUR PODCAST
===========================
Spotify: https://bit.ly/3PSWIyI
Apple Podcasts: https://bit.ly/3RvlHte
Youtube: https://bit.ly/3RDzkXg
Google Podcasts: http://bit.ly/465gjS5
Deezer: https://bit.ly/3PvQaof
Amazon Music: https://bit.ly/3PQlijS
Zencastr: https://bit.ly/48xt75s
💬 FOLLOW US ON SOCIAL MEDIA
============================
Instagram: https://www.instagram.com/greennewperspective/
Twitter: https://twitter.com/gnperspective
Facebook: https://www.facebook.com/greennewperspective
LinkedIn: https://www.linkedin.com/showcase/greennewperspective/
TikTok: https://www.tiktok.com/@greennewperspective
Threads: https://www.threads.net/@greennewperspective
#sustainabilitypodcast #cleanenergy #greennewperspective #sustainability #cleanenergy #podcast #cleantech