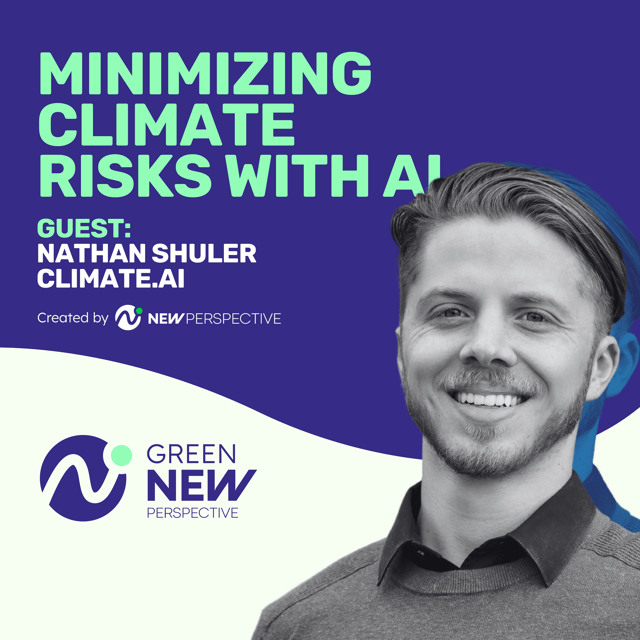 Step into the world of Climate AI with Nathan Shuler, an expert who has spent years working in the climate space. Discover how organizations and companies are leveraging AI-driven forecasts to optimize their practices, mitigate risks, and seize new opportunities. From seasonal predictions to long-term forecasts, explore the tangible business value that Climate AI brings to the table.
🕑 💡 KEY MOMENTS
==================
➜ 00:06 The transformative potential of climate technology
➜ 01:39 The backstory of Climate's co-founders and their motivation
➜ 04:36 The application of Climate AI's technology in agriculture
➜ 10:20 Predicting impacts on agriculture
➜ 12:34 Leveraging weather stations for localized data
➜ 14:53 Challenges in technological adoption for farmers
➜ 20:41 The importance of visualizing climate risk information
➜ 21:45 Collaboration with customers in developing agronomic models
➜ 22:56 Making climate data accessible and sharing case studies
➜ 30:45 The horizon of regulation, increased demand, and storytelling
➜ 31:26 Feelings about the future of sustainability
➜ 33:20 Balancing technological innovation and cultural change
🌍 SUSTAINABILITY PODCAST CREATED BY NEW PERSPECTIVE
========================
This podcast is proudly sponsored by New Perspective Marketing, a dynamic growth marketing agency in Boston, MA, celebrating 20 years in business. We help sustainably focused B2B organizations grow their brands and scale up revenue. If you or your organization is looking to grow, visit npws.com for more info.
🎧 SUBSCRIBE TO OUR PODCAST
===========================
Spotify: https://bit.ly/3PSWIyI
Apple Podcasts: https://bit.ly/3RvlHte
Youtube: https://bit.ly/3RDzkXg
Google Podcasts: http://bit.ly/465gjS5
Deezer: https://bit.ly/3PvQaof
Amazon Music: https://bit.ly/3PQlijS
Zencastr: https://bit.ly/48xt75s
💬 FOLLOW US ON SOCIAL MEDIA
============================
Instagram: https://www.instagram.com/greennewperspective/
Twitter: https://twitter.com/gnperspective
Facebook: https://www.facebook.com/greennewperspective
LinkedIn: https://www.linkedin.com/showcase/greennewperspective/
TikTok: https://www.tiktok.com/@greennewperspective
Threads: https://www.threads.net/@greennewperspective
#sustainabilitypodcast #cleanenergy #greennewperspective #sustainability #cleanenergy #podcast #cleantech