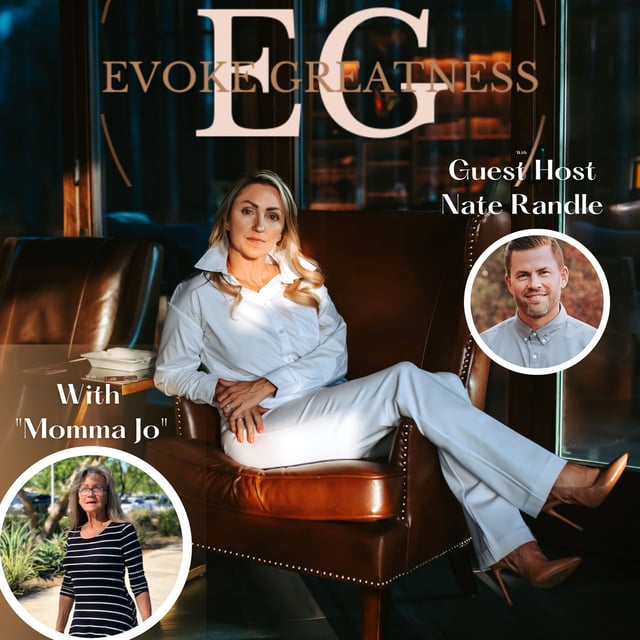 E56 · Evoke Greatness Podcast
Interview with...my Mom by Guest Host Nate Randle: A little sneak peak into the life of Momma Jo (as Nate lovingly refers to her)
This episode has Nate Randle taking over the mic and interviewing my Mom. He had been very insistent for months that I needed to get her on. That morphed into him taking over and she was here for it!
In this episode she shares:
What her childhood was like (spoiler alert...it was bad).
How the woman who was hired to help care for she and her siblings would become one of her biggest mentors in life.
What her proudest moments were as a single parent.
Why she feels like God is always present in our journey.
How she got into the prison system (as a guard).
How she was a part of changing the rules to get the same equitable retirement as the rest of law enforcement.
Some wild stories from the career she spent 20+ years in and retired from.
Advertisements:
Support for this episode is brought to you by MANSCAPED, the best in personal grooming. MANSCAPED is offering "The Beard Hedger Pro Kit", a gift that is packed with goodies. Get 20% OFF @manscaped + Free Shipping with promo code SONNIE20 at MANSCAPED.com! #ad #manscapedpod
https://www.manscaped.com/

Go to https://blendjet.com/ and use code sonnie12 to save 12% off your order OR use my special link and the discount will be applied at checkout http://zen.ai/sonnie12
A rising tide raises all ships, and I invite you along in this journey to Evoke Greatness!

Check out my website: www.evokegreatness.com

Follow me on:
https://www.linkedin.com/in/sonnie-linebarger-899b9a52/
https://www.instagram.com/evoke.greatness/