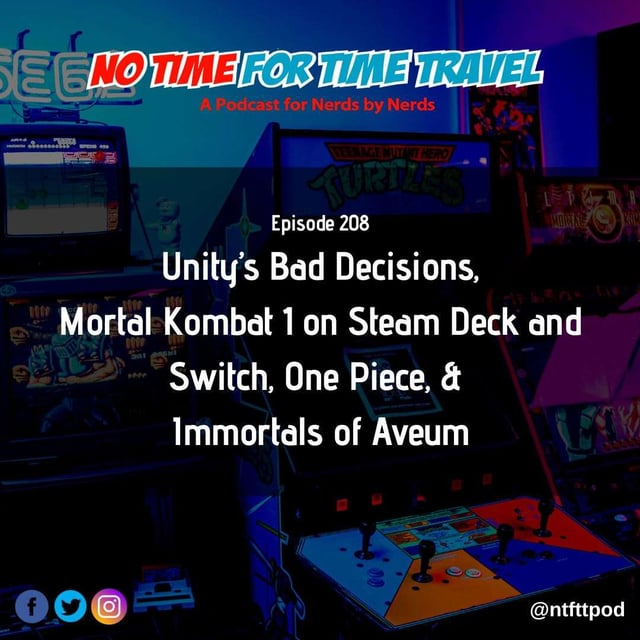 No Time For Time Travel Pod
208. Unity's Bad Decisions, Mortal Kombat 1 on Steam Deck and Nintendo Switch, One Piece, Immortals of Aveum
Episode #208. Unity's Bad Decisions, Mortal Kombat 1 on Steam Deck and Nintendo Switch, One Piece, Immortals of Aveum
In today's podcast episode, Tony and Quoc delve into a diverse range of topics that are sure to pique your interest:
🔥 We go through a heated discussion about Unity's controversial fee structure, which has left many in the gaming community less than pleased with the industry giant. 💥 We dissect the performance of Mortal Kombat 1 on the Steam Deck, comparing it to the rather lackluster experience on the Nintendo Switch. 🏴‍☠️ On a more positive note, we dive into the world of One Piece's Netflix live-action adaptation, exploring why it's earning praise and making waves among fans. 💔 Lastly, we unravel the cautionary tale of Immortals of Aveum, a game that seemed destined for disaster from the outset, and we hypothesize the contributing factors to the turbulent journey.
========== Follow us on
Twitter
Facebook
Instagram
YouTube
Patreon
Stream us on Twitch!
Visit our site at www.ntfttpod.com !
You can contribute by emailing us at ntfttpod@gmail.com!
Hurdy gur and warp speed!
Support No Time For Time Travel Pod by contributing to their tip jar: https://tips.pinecast.com/jar/no-time-for-time-travel-pod
Find out more at https://no-time-for-time-travel-pod.pinecast.co
This podcast is powered by Pinecast. Try Pinecast for free, forever, no credit card required. If you decide to upgrade, use coupon code r-e52a8a for 40% off for 4 months, and support No Time For Time Travel Pod.
by

@tdrx