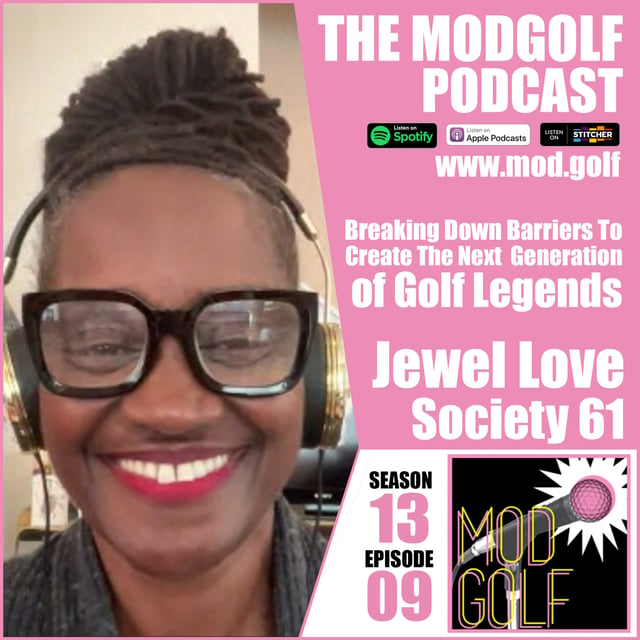 "We are very clear and incredibly focused. We're not playing around because this is not a little thing. This is big in our minds and we are giving everything we have because we believe in and know that these young people, they deserve to see this industry in a way that we have not."... Jewel Love, Board Member and Advisor for Society 61 and The Society 61 Foundation

______________________________________________
If you love golf, we have exclusive deals on golf gear and services that we use and support! We launched The ModGolf Pro Shop to offer you - our ModGolfers - 10-20% OFF exclusive discounts using promo code MODGOLF. We have curated a diverse selection of awesome brands like KINONA, deWiz Golf, ODIN Golf, Back2Basics Golf, Deuce and Project72Golf to help you play better and look great while doing it. CLICK TO SHOP AND SAVE.

______________________________________________
"We know the golf industry has to be updated, the culture of it. When saying they want to diversify, then that means that you're willing to make changes that you not ever thought of making. You're willing to think differently and open up your mind in different ways. We tend to be pretty straight at it and transparent. We're here to say this is about the next generation of Legends. We made a commitment to be in the game in that way. Not half in it, but all the way in it."
About Society 61...
Through the year 1960, a clause in the Pro Golfers Association (PGA) guidelines - Article III Section I - stated only Caucasian males 18 and older were eligible to receive their tour card. There were amazing men and women golfers from all cultures whose talents went unrecognized nationally until 1961, when African American golfer Charlie Sifford broke that color barrier by receiving his PGA card and opened the door for golfers of all ethnicities to officially compete on the tour.
THEIR MISSION
Society 61 is a clothing brand for golfers designed to honor the pioneers from the past who paved the way for the culturally diverse sport that golf is today. Society 61 was cultivated not only from a love of golf but also a love for our culture. Our company was named in homage to that barrier breaking year, 1961, and we launched our business in 2021 to celebrate the 60th anniversary of that historic moment. We combine traditional style with the modern look and feel of today's best sports materials and fabrics. We look forward to being your go-to clothier for everything golf and more.
I want more women out doing business on the golf course. I was in sales and calling on all these large organizations to find that there were hardly any female CEOs. I thought, "what can we do to continue to lift up women towards leadership through golf?" Because I think the world would be a better place, but my natural tendency is towards fun. So my goal: why don't we try and do this and accomplish this mission but have some fun while we're at it.
You can also connect with Jewel on her bio page, along with checking out the Society 61 website.