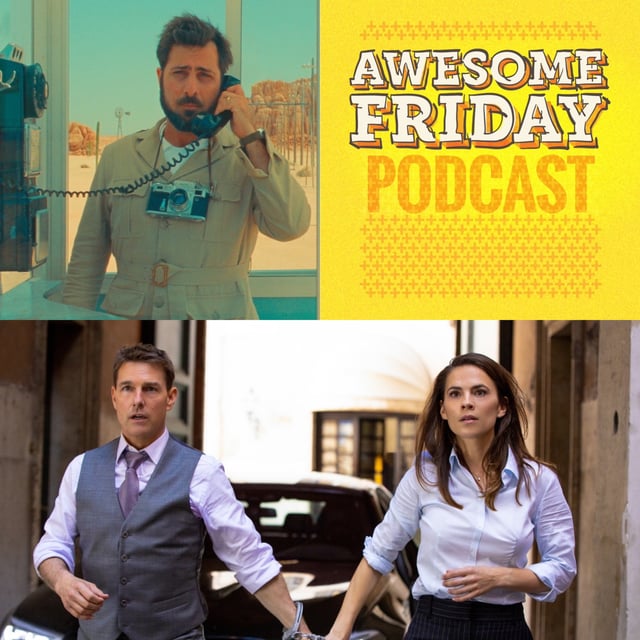 Greetings programs! This week, we dive head first into the world of Wes Anderson with Asteroid City, and then we jump off a cliff with Tom Cruise in Mission: Impossible - Dead Reckoning Part 1. Join us!

STRIKE NOTE:
This episode was produced during the 2023 WGA and SAG-AFTRA strikes. Without the labour of the writers and actors currently on strike, the films being discussed here wouldn't exist.

EPISODE HOMEPAGE:
CVisit this episode's homepage for JustWatch-powered streaming links to each title as well as all of our other content.
Link: https://awesomefriday.ca/2023/07/podcast-asteroid-city-mission-impossible-7/


BONUS CONTENT:
Matthew asks, "What was. movie you thought would be bad but turned out to be great?", and Simon follows up with, "What is a scary movie that you saw way too early and remains a benchmark for horror?" All of our patrons get access to the bonus chats, and the support tiers start at just $2 CAD/month.
Link: https://www.patreon.com/posts/july-23th-bonus-86544802
SUPPORT:
SPONSORS:
Use our link or offer code awesomefriday to save 30% off your first month of any Zencastr paid plan: https://zen.ai/rTVjMVtvpM_yuDr6TtKcCCJ2wVaA9Vpd5szBBXzclP0
CONNECT WITH US:
SHOW LINKS:
Meanwhile, relax and enjoy your flight.