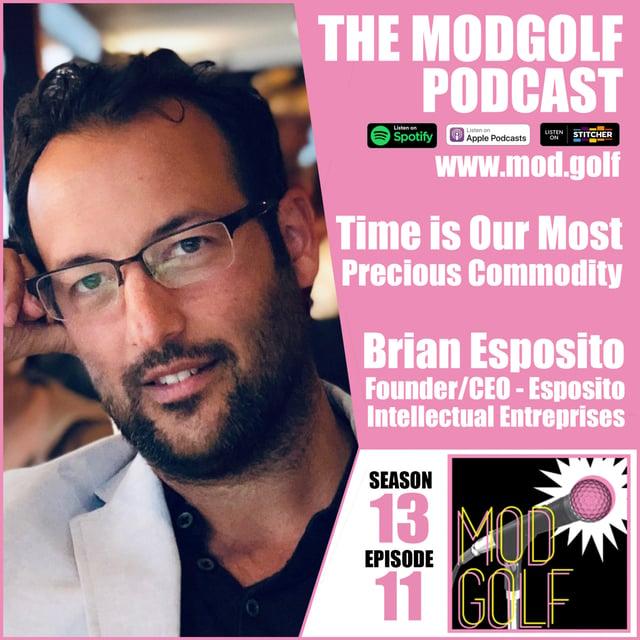 S13 · The ModGolf Podcast
Time is Our Most Precious Commodity - Brian Esposito, Founder/CEO of Esposito Intellectual Enterprises
Colin met Brian Esposito on a HYPE Sports Innovation "Ask Me Anything" webinar and was so impressed with his genuine desire to help entrepreneurs and their companies that we had to invite him on the show to share his experiences with you.
"I have a simple rule with what I built. When they're my companies it's my ass on the line, so it's my rules. But when they are other people's companies like the great startups that I get to work with, its their vision, their passion. I'm there to support them and be a turnkey resource for whatever needs to be done, a utility player. I know what they need because I needed it for most of my career and I didn't have it. So it's very rewarding for me now to take all of my learning experiences and help guide these companies to success and be a complete soundboard and resource for them and keep it fun for them."
______________________________________________
If you love golf, we have exclusive deals on golf gear and services that we use and support! We launched The ModGolf Pro Shop to offer you - our ModGolfers - 10-20% OFF exclusive discounts using promo code MODGOLF. We have curated a diverse selection of awesome brands like KINONA, deWiz Golf, ODIN Golf, Back2Basics Golf, Deuce and Project72Golf to help you play better and look great while doing it. CLICK TO SHOP AND SAVE.

______________________________________________
"I need to make sure that tech founders don't dilute themselves out of their own company. I tell them to get off this BS "raise money/run out of money/raise money/run out of money" hamster wheel because they can't be half pregnant. You're either out there, raising money or you're running your business. You can't do both at the same time. So I've been through hell and back, I made every mistake you can think of and I'm honoured and excited to share those experiences with the great companies that they get to work with."

Click on the image below to watch our extended conversation with Brian on our Youtube Channel!

Brian shared a couple of companies and products that Esposito Intellectual Enterprises invests in and advises on, including Virtual Stax. Virtual Stax allows fans to participate in the athlete's journey with blockchain verified digital trading cards.
To learn more, check out the Virtual Stax website.

You can also connect with Brian on his bio page, along with checking out the Esposito Intellectual Enterprises website.